Low-Cost Emulatoren
BH-USB200
The Blackhawk USB200 Emulator (USB200) is a TI XDS200-class emulator that is small, lightweight and portable. The USB200 product is compatible with the TI XDS2xx reference design.
The USB200 offers an excellent balance of performance and price placing it in between the super low cost XDS100 and high performance XDS560 class emulators. The USB200 is compatible with Code Composer Studio IDE (CCS) V5.2+ with the latest TI emulation update applied.
The controller supports the compact TI 20-pin JTAG header and voltage ranges from 1.5V to 4.1V. The USB host port permits communications with the host PC and two LEDs give operational status.
The USB200 supports the TI UniFlash™ programming utility and CCS DSS Java Scripting.
Blackhawk also has available optional Isolation Adapters which protect from ground loop voltage, harsh environments and new, untested designs. Isolations adapters support 3.3V to 5.0V targets with TI 14-pin and cTI 20-pin connections.
For more information, please contact us.
BH-USB100v2D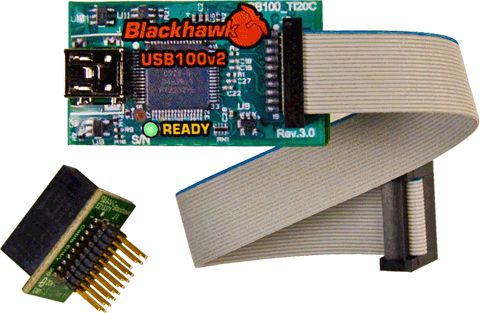 The Blackhawk™ USB100v2 controller is a very low-cost controller for basic debugging of Texas Instruments DSPs. Requiring no external power source, the USB100v2 can support most of the basic features of higher priced emulators and requires no additional drivers when installed using CCS V4 or later.
As an added bonus, Texas Instruments is offering Code Composer Studio™ for FREE for use with the USB100v2. Please visit the TI wiki page for the XDS100 for news and details on this offer here.
The USB100v2 is a TI XDS100v2-compatible emulator fully supported under CCS v4 and newer Texas Instruments software development environments. The USB100v2 provides for faster code downloads and assembly code stepping in that the USB100v2 uses a high-speed USB2.0 (480 Mb/s) port instead of slower USB1.x (12 Mb/s) implementations.
Measuring just 1.6"L x 0.80"W x 0.65"H (4cm x 2cm x 1.6cm), not including the 5 inch cable, the Blackhawk USB100v2 is the smallest and most compact emulation product from a US manufacturer and is fully assembled and tested in the USA. It will support 1.8-3.3v targets with native cTI compact 20-pin connections and also includes standard 14-pin emulation adapter.
Additionally, with an optional 20cTI to 20ARM connector (available from Blackhawk), the USB100v2D can connect to 20-pin ARM Multi-Ice platforms.
The USB100v2D emulator sells at less than 100Euros.
For more information, please contact us.